Beyond the Frame - women local politicians in South Caucasus
Women in the South Caucasus remain dramatically underrepresented in local politics. They do not enjoy equal access to positions that allow them to influence local policies the way men do. As a consequence, they tend to have no say in the decisions that will eventually affect them as much as anyone else.
The project, commissioned by German Cooperation Agency (GIZ) aimed to highlight personalities and life realities of particularly dedicated female mayors and council members in Armenia, Azerbaijan and Georgia through photographs and quotes.

Through every personality we see the desire to step up and tackle the problems in their communities, the ambition to make a difference in their cities and villages, and the motivation to continue with their efforts even under the most adverse conditions.
Against a bleak background, the local politicians highlighted in the project, stand out as inspiring examples to others and are living proof of what women in leadership positions can achieve for their communities.
The current page shows limited selection of photographs. A wider range of the project can be seen by this link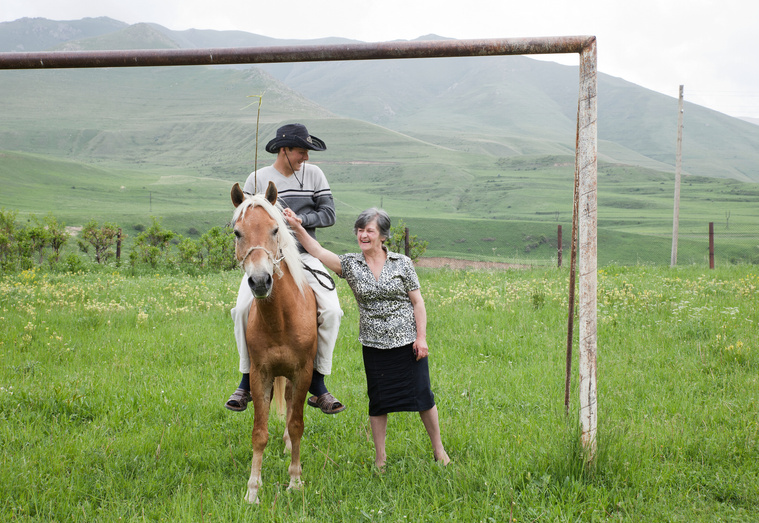 "I try to create a sense of community so that those who decided to stay in the village could feel that we have one goal. When the time comes to collect harvest we all do the work and later sit together at one table to celebrate. "
Anahit Hakobyan Mayor of Torunik municipality
"I am the only woman in the municipality and I have to be careful of everything I do: with whom I drink tea or whom I talk privately. So far people respect me, because I know the rules."
Malahat Aliyeva - Masazir Municipality Council Member. Azerbaijan


Human factor plays important role in our society. When you are able to communicate your demands, and by this to get things done, people see and appreciate that. But it would be total waste of energy trying to please everyone. Hermine Arakelyan Member of Teghut Municipality Armenia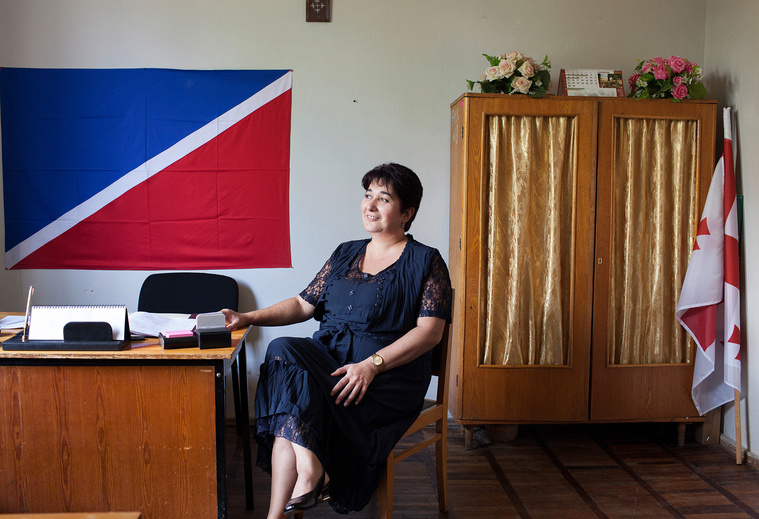 I am able to find a solution to most people's problems. That is great feeling to realize that you have the power to help others.
Tamar Dalaqishvili, Tetritskaro Municipality Council Member
"I dreamed to become a lawyer but was kidnapped and had to get married. It seemed that my dream had been shattered but against the will of my husband I went to study again. I did not care about the opinions of others. I was simply pursuing my goal."
Natela Gogoladze, Borjomi Municipality Council Member Georgia
"Sometimes I get caught in a mood of desperation and think about leaving my work at municipality. Then I tell myself to try one more time to realize some of our ideas. "

Shalala Cafarova Z. Tagiyev Municipality Council Member Azerbaijan
"Over the past 25 years of my work life I had to prove every single day that I deserved to be at my position. What I am today, my work position, all this is the product of a constant struggle."
Marina Gachechiladze, Head of Regional Administration Samckhe Javakheti Georgia
"Every time I walk past the old municipality building I have to think about the changes in the village over the last 15 years. A lot of work, a lot of achievements. This fills me with pride and makes me continue my work, even if I often feel tired. "
Taguhi Boyakhchyan Mayor of Tsapatagh municipality
My grandmother

told me that there are four corners in the room and I should never know where is a door. When being treated badly in one corner I should go to another. But I made opposite rules for my life and now I try to help women in my community to find a door.

Malahat Aliyeva - Masazir Municipality Council Member. Azerbaijan